George Bush Finally Grows A Pair
(Actually, I think their names are Dick and Karl, but at least he's listening to somebody smart again.)
---

... One of the hallmarks of a free society and what makes our country strong is that our political leaders can discuss their differences openly, even in times of war. When I made the decision to remove Saddam Hussein from power, Congress approved it with strong bipartisan support. I also recognize that some of our fellow citizens and elected officials didn't support the liberation of Iraq. And that is their right, and I respect it. As President and Commander-in-Chief, I accept the responsibilities, and the criticisms, and the consequences that come with such a solemn decision.

While it's perfectly legitimate to criticize my decision or the conduct of the war, it is deeply irresponsible to rewrite the history of how that war began. Some Democrats and anti-war critics are now claiming we manipulated the intelligence and misled the American people about why we went to war. These critics are fully aware that a bipartisan Senate investigation found no evidence of political pressure to change the intelligence community's judgments related to Iraq's weapons programs.

They also know that intelligence agencies from around the world agreed with our assessment of Saddam Hussein. They know the United Nations passed more than a dozen resolutions citing his development and possession of weapons of mass destruction. And many of these critics supported my opponent during the last election, who explained his position to support the resolution in the Congress this way: "When I vote to give the President of the United States the authority to use force, if necessary, to disarm Saddam Hussein, it is because I believe that a deadly arsenal of weapons of mass destruction in his hands is a threat, and a grave threat, to our security." That's why more than a hundred Democrats in the House and the Senate — who had access to the same intelligence — voted to support removing Saddam Hussein from power.

The stakes in the global war on terror are too high, and the national interest is too important, for politicians to throw out false charges. These baseless attacks send the wrong signal to our troops and to an enemy that is questioning America's will. As our troops fight a ruthless enemy determined to destroy our way of life, they deserve to know that their elected leaders who voted to send them to war continue to stand behind them. Our troops deserve to know that this support will remain firm when the going gets tough. And our troops deserve to know that whatever our differences in Washington, our will is strong, our nation is united, and we will settle for nothing less than victory.

---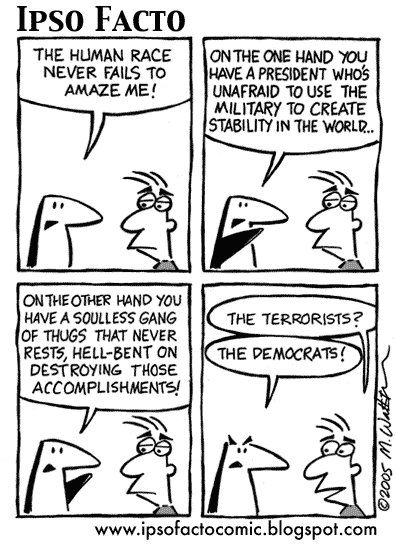 ---
Tom Maguire has some excellent commentary on the President's speech here.
Timmer at The Daily Brief: "Finally."
Glenn Reynolds has great coverage of the situation here, here and here.
Don't miss TigerHawk's "Considering dissent and limited war II"
Don Surber: Bush's Gettysburg
Captain Ed: "Bush Goes Back To Offense On Veterans Day"
Michelle Malkin asks:
---

What took him so long? He could have made this speech while Sheehan was gaining traction outside his Crawford, Tx. ranch this summer with her "Bush lied!" brigades. He could have made this speech while the anti-war movement and the media were busy politicizing the "2000 dead" milestone in the most macabre and dishonest way. He could have made this speech as Harry Reid was jumping up and down like Rumpelstiltskin behind the Senate chamber's locked doors.

---
Personally, I think Captain Ed answered that question here before Bush even gave the speech, but Lorie Byrd's explanation here makes a lot of sense, too.
It's going to be interesting to see over the next few days and weeks if the new GWB hangs around and exerts himself in some other areas where we need him to or if this was a one-shot deal.
***
Don't miss Mudville's latest Open Post or Stop The ACLU's Weekend Trackback Party.
***
Well, the MSM counterattack didn't take long. Captain Ed has a great countercounterattack here. The Washington Post: al-Jazeera on the Potomac.
Posted by Bill Faith on November 12, 2005 at 02:13 AM | Permalink
---
TrackBack
---
Listed below are links to weblogs that reference George Bush Finally Grows A Pair:
---
---
Comments
---
Note: I hate to have to do it but I'm turning on comment and trackback moderation. If you post a legitimate trackback or comment I'll do my best not to be too slow about approving it. If the only reason you're here is to advertise your porn, music, or penis enhancement site you can kiss my sweet ass.

---
The comments to this entry are closed.