WE WILL NOT FORGET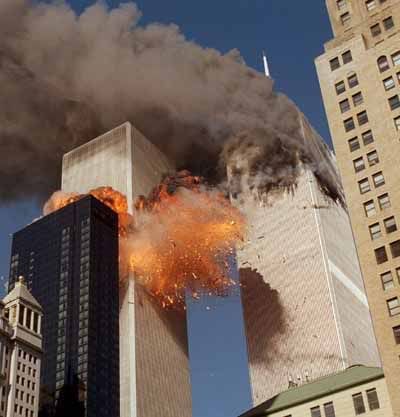 I don't know when or if I'll ever have the energy to get serious about my blogging again but I can't let the anniversary of the 9/11 attacks go unmentioned. There's good coverage several places on the web but clicking the images in this post will take you to some of the best of it.
Update: Michelle Malkin also has a great roundup here, including several pictures the MSM still doesn't think you should see (Maybe if they were hurricane victims ... ?) .
Update 2: I knew The Mudville Gazette wouldn't let us down. Just keep scrolling. See also: Captain's Quarters, Winds of Change.
Posted by Bill Faith on September 11, 2005 at 01:57 AM | Permalink
---
TrackBack
---
Listed below are links to weblogs that reference WE WILL NOT FORGET:
» A Day For Remembering from CALIFORNIA YANKEE
[This was originally posted September 11, 2004. I have also reposted "Flame Of Hope" which was written by my son and originally posted on September 14, 2004. I have also linked to other blogs with "never forget posts."] It was [Read More]
Tracked on Sep 11, 2005 9:10:44 AM
» In Memoriam from conservative-insurgent.blog-city.com
Never Forget - Never Forgive - September 11, 2001I saved the following from some one elses blog site, it has survived two computer crashes and the originating site link has been lost. My apologies, I hope they'll forgive me. This list goes back over [Read More]
Tracked on Sep 11, 2005 2:15:08 PM
---
---
Comments
---
Note: I hate to have to do it but I'm turning on comment and trackback moderation. If you post a legitimate trackback or comment I'll do my best not to be too slow about approving it. If the only reason you're here is to advertise your porn, music, or penis enhancement site you can kiss my sweet ass.

---
We believe there is a lack of (or maybe "ANY") 'appropriate' 9/11 memorials, anywhere. We've put our own 5 minute video memorial online. No burning buildings, no rubble, no explosions, no speeches, no screeches, no Bin Laden, no bodies. Just a remembrance of some people whose lives were cut short through no fault of their own, with poignant candid snapshots from their lives, with musical background. http://mistersnitch.blogspot.com/2005/09/our-after-911-site-is-online.html

Posted by: Mr. Snitch! | Sep 11, 2005 11:35:25 AM

Thanks Bill, too many have forgotten already.

Posted by: Jack | Sep 11, 2005 1:25:15 PM

The comments to this entry are closed.