Kerry smeared a hero: my dad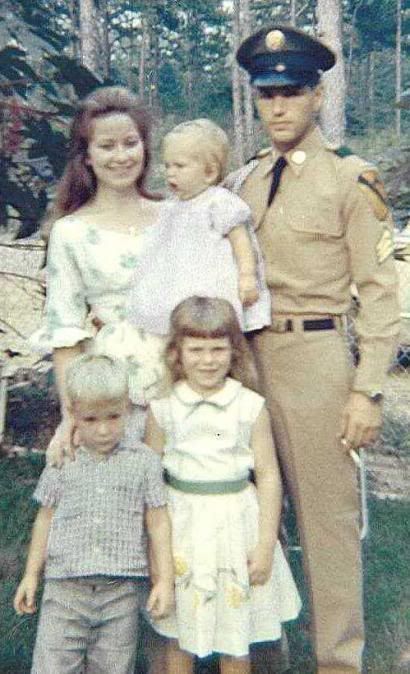 The Soldier in the picture is Sgt. Jack Gell. The baby is his daughter Carol. That was the last day his family saw Sgt. Gell alive. Care to guess how Carol feels about John Kerry's bid for president? Here's a little taste:
[...]

I don't blame Kerry for my father's death, and I don't much care if he shamelessly chased after medals. But I do care that when he returned from Vietnam he gave aid and comfort to the enemy while our soldiers were still dying. I care that he smeared my father and a generation of our armed forces with false charges of war crimes while posing himself as a hero. I care that Kerry's false charges encouraged our enemy who was pressuring our POWs in inhumane ways to confess to imaginary war crimes. I care that he went to Paris to meet with the Viet Cong in 1970 while still an officer in the Navy Reserve, returning to publicly advocate for their position and against America's position.

This isn't about politics. It's about honor and betrayal and protecting our country. And for me it is deeply personal, as it is for countless vets. Thirty-nine years later, my mother still cries on Nov 14. Thirty-nine years later, we miss my father every day. Thirty-nine years later, Kerry poses as a hero. As children of Vietnam veterans, many of us feel an unwelcome emotional strain as the arguments about what really happened in Vietnam are tugged back and forth, often by people who were not there. We deeply resent the suggestion that our fathers were war criminals as that theme inevitably seeps into the argument.

[...]

As long as I have breath and Kerry seeks the office of president, I will speak out against him. Others like me are too many to count.
Go read the whole thing. Please. You'll have to go through a painless registration process to get to it, but it's worth it. Trust me.
Cross-posted from In Bill's World. Previously cross-posted to The Mudville Gazette and Backcountry Conservative.
Hat tip: Kerry Haters
Posted by Bill Faith on October 19, 2004 at 03:00 PM in Jean Fraud Kerry, Sgt_Gell | Permalink
---
TrackBack
---
Listed below are links to weblogs that reference Kerry smeared a hero: my dad:
---
---
Comments
---
Note: I hate to have to do it but I'm turning on comment and trackback moderation. If you post a legitimate trackback or comment I'll do my best not to be too slow about approving it. If the only reason you're here is to advertise your porn, music, or penis enhancement site you can kiss my sweet ass.

---
The comments to this entry are closed.